In late Autumn early Winter I travelled on a 4,252km road trip in my Tesla 3LR Electric Vehicle, visiting places across NSW and Victoria.
Setting out from Sydney NSW, travelling to meetings in Moruya on the South Coast, then across the Snowy Mountains by electric vehicle, including driving in snow at Perisher.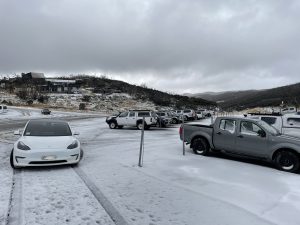 Then across to Tumut, down to the Yarra Valley to visit family in Victoria, then across to Geelong and Torquay.
At Torquay I started the Great Ocean Road, in my Tesla electric vehicle, following the coast all the way to Port Fairy in western Victoria.
Then heading north over the Grampians mountains, in my EV, through Horsham to Nhill Aviation Heritage Centre at Nhill in western Victoria.
From Nhill, temperatures dropped significantly as autumn ended and icy winds brought an early start to winter. Temperatures were low teens as my electric vehicle headed north through Rainbow to Red Cliffs and Mildura and exploring the north west lakes Victorian National Parks by electric vehicle.
Crossing into NSW visiting Euston, Balranald and Narrandera, temps dropped to zero with daytime max of 11 – 12 degrees while visiting the NSW national parks by electric vehicle. My final leg home was a cold windy winter drive in electric vehicle in temps of 5-7 degrees, from Narrandera through Wagga Wagga, Jugiong and Goulburn and on to Sydney.
In summary, I took two and a half weeks, spending up to 3 days at some locations, travelling 4,251km in my Tesla model 3 LR electric vehicle. Energy used was 670kWh at an average of 157Wh/km. Road surfaces included the heavily potholed main roads and country roads in NSW, snow covered roads in Kosciuszko National Park, good country roads in Victoria, wet and dry dirt roads in Victorian and NSW National Parks and freeway travel. Temps ranged from low teens to single digit days down to -2 degrees some evenings and mornings.
Average range was 15.7kWh/100km or the equivalent of 477 kms on a full charge. It was a cold weather trip, with the cabin heated at 20 or 21 degrees, terrain included the highest mountain ranges in Australia and I had sentry operating each evening overnight while the car was parked at motels, which uses additional energy each night.
I used PlugShare to allow me to top up my electric vehicle at a combination of Tesla superchargers, RACV Chargefox chargers, NRMA chargers and destination chargers. At two places where I stayed I also plugged in to a normal power point overnight. Every charger I stopped at was available and worked well for me.
More detailed blog posts on the Snowy Mountains leg and the Great Ocean Road leg are earlier in this blog.