Summary
I travelled in my ev 1,836 kms from Sydney to Bourke via Cobar and return, in temps to 38oC.
The Trip 
It has been many years since I visited Cobar for work when I was with the RFS and so I wanted to revisit the area and see the towns and people and country. Cobar is about 700km from Sydney.
I also wanted to visit Bourke, on the Darling River, which is just a 160km each way day trip from Cobar in my electric vehicle. There are EV superchargers at Bathurst and Dubbo and a new NRMA public EV charger at Cobar.
Public NRMA EV chargers at Nyngan and Bourke are shown as planned but not yet built.
I have ample range to travel the 300 kms between Dubbo and Cobar in my electric vehicle, but rather than rely on the single EV charger in Cobar,  I have chosen to book to stay at a small house with a driveway, so I can also charge my electric vehicle at my accommodation overnight while in Cobar.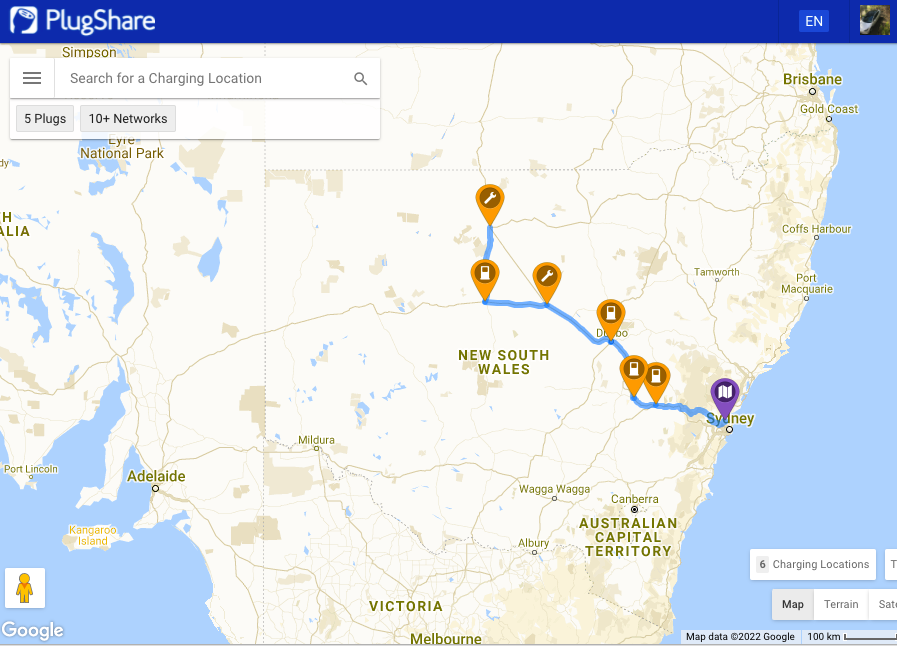 Day 1 Sydney to Cobar
Headed off from northern Sydney 6:30am with 85% charge. Air temp is 23oC and the forecast max temperatures for the drive are 31oC in western Sydney, 28oC in Bathurst, 33oC in Dubbo and 39oC in Cobar
First stop after 188 kms at 9:20am is Bathurst, for breakfast, at the Harvest Cafe by the park and let my car top up at the nearby Tesla electric vehicle supercharger.
I had used 29kWh at 157Wh/km, arriving in my EV with 43% charge.
85%-43%=42% used over 188km or 44.8km per 10% of battery used on the uphill trip from Sydney to Bathurst, elevation 650m.
My EV topped up to 90% during the 35 mins I had stopped for breakfast, then I set off for Dubbo 199 kms to the north west.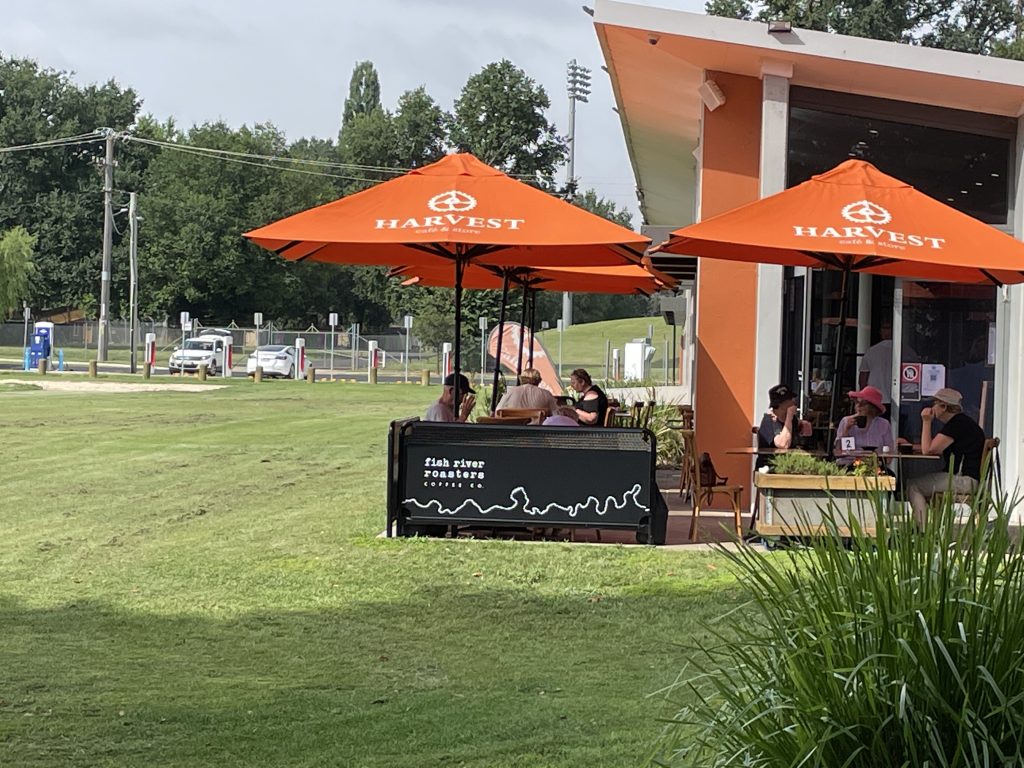 Arrived for lunch at Dubbo at 1:20pm just as a strong storm hit the town. It was good to be able to go inside at the Western Plains Cultural Centre, a great cafe and the Regional Art Gallery and Regional Museum to look over while, my Tesla electric vehicle topped up at the Tesla EV supercharger in their carpark for 30 mins to 90%.
There was no cover over the EV chargers in the open car park. It was pouring heavy rain and strong winds but my electric vehicle charged in the rain safely and quickly. Charging my electric vehicle in the rain has been fine.
The trip down the Great Dividing Range from Bathurst to Dubbo took 3hr 20m, using less power than the trip up to Bathurst. So far I have travelled by electric vehicle a total of 393 km using 57kWh at 146 Wh/km.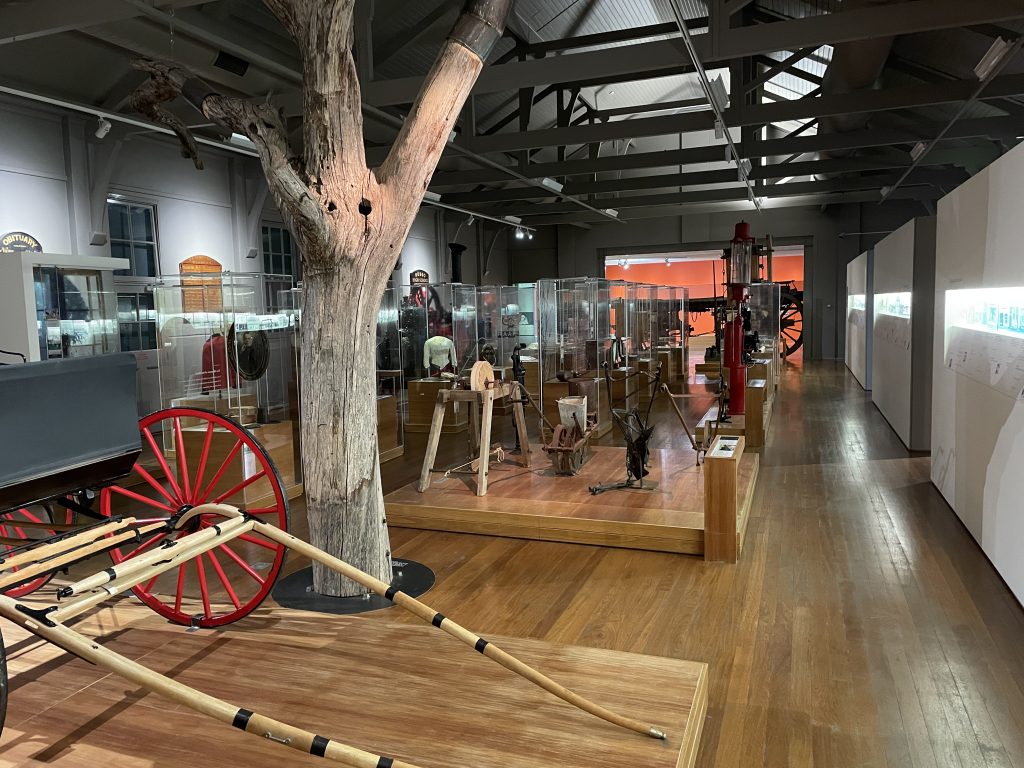 I then headed off to Cobar, 300 kms west. I arrived at Cobar with 27% charge left. The total trip today was 702kms, using 102 kWh at 146 Wh/km.
For the 300km Dubbo to Cobar leg, the full battery usage, which includes air con, sentry, preconditioning etc, was 90%-27%=63% used over 300km or 48km per 10% of battery used.
Today I have only made two stops to charge my electric vehicle, one at Bathurst and one at Dubbo. I topped up at Cobar at the NRMA free EV charger to 50% and then plugged in my electric vehicle at my accommodation into a normal plug, to finish topping up overnight.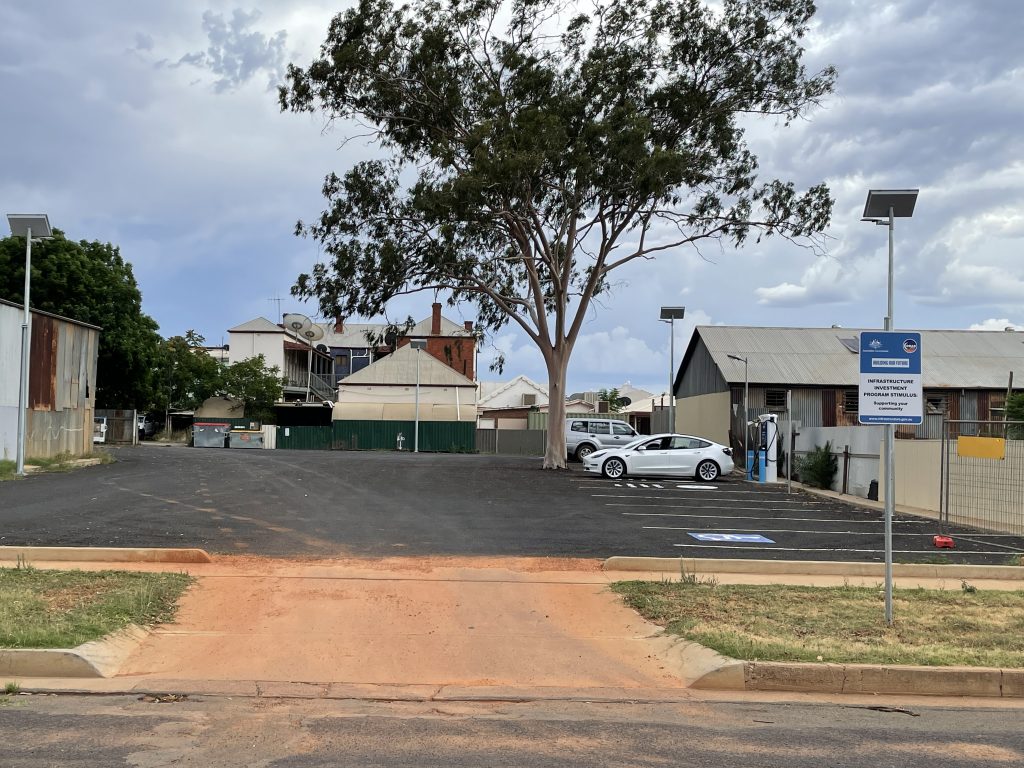 Day 2 Bourke
Headed off from Cobar to Bourke with 88% charge. Forecast max temperatures for the drive are 36oC in Cobar and 38oC in Bourke.
Bourke is 847kms from Sydney, in north western NSW, but only a 160km each way day trip from Cobar. Beautiful river town with lots of history.
Visits included the Back O' Bourke Information & Exhibition Centre, Old Bourke wharf on the Darling River, Historic buildings in main street and Polygonum Swamp near the old northern bridge.
I had left Cobar with ~420kms range, plenty of charge in my electric vehicle for the full 320 km return trip.
There is also a free NRMA EV charger planned for Bourke, at the old wharf on the Darling River, but construction hasn't yet started.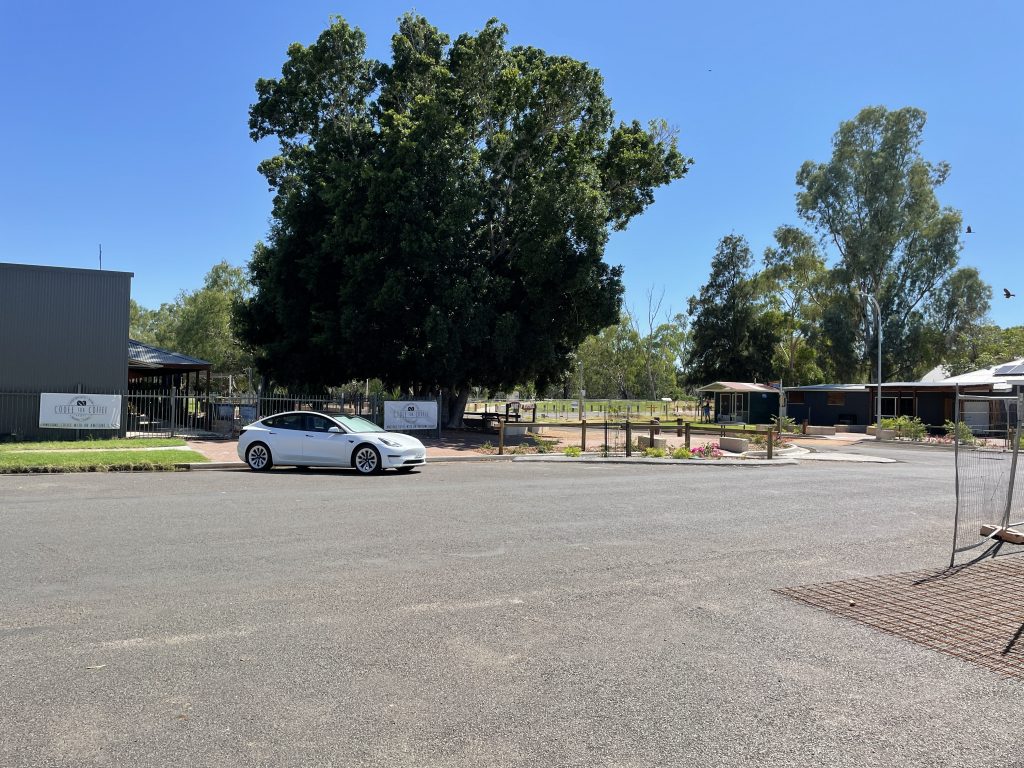 I ended up doing a few kms more looking at things and left my sentry on while parked in Bourke, so when I headed back to Cobar my Tesla's navigator said I would arrive with 11%. That's ok, but to ensure I kept on or above that estimate, I reduced my speed in my electric vehicle a little, from 110km/hr to 90 or 100 km/hr and arrived at Cobar with 13%. I then topped up to 44% at the NRMA EV charger in Cobar and topped up further overnight at my accommodation.
In Summary, my trip so far, I have travelled 1,051 kms using 154kWh of electricity at 147 Wh/km. My average range for a full charge at 100-110km/hr is about 470 km.
After returning to Cobar, early afternoon, I visited the Fort Bourke Hill Lookout and Open Cut Mine 2km sth of Cobar.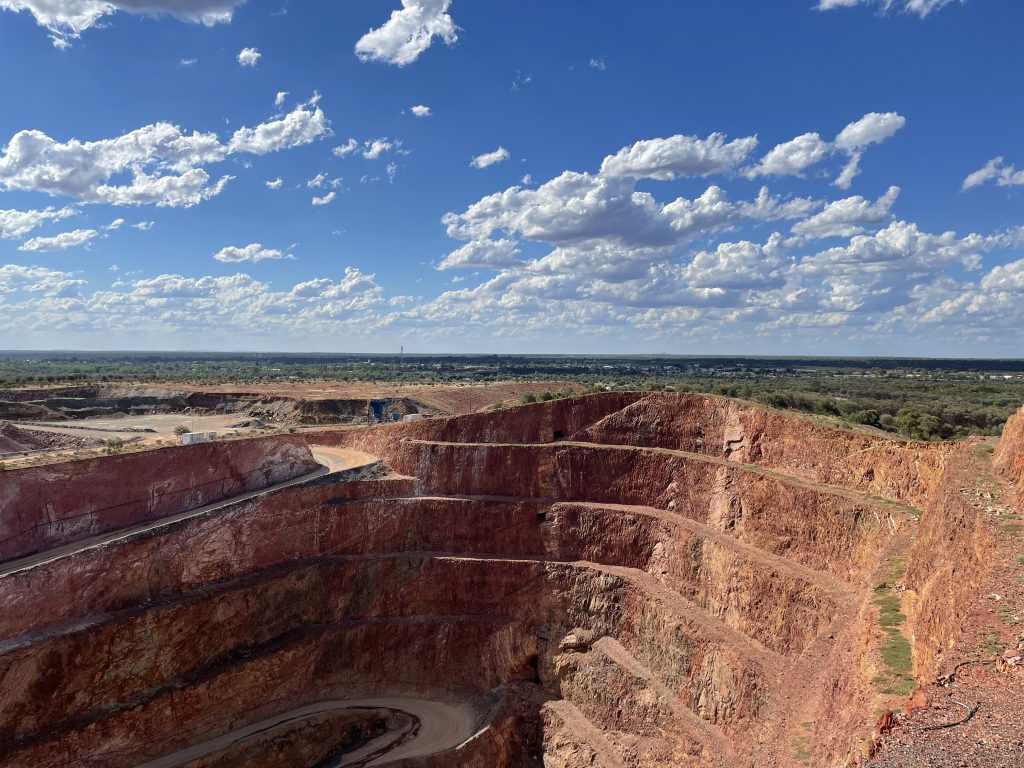 Day 3 Cobar
Local exploring around Cobar, temperature for the day was 37oC in Cobar.
Visited the Cobar Museum and Miners' Memorial. Both well worth visiting.
Later visited the Peak Gold Mine on the Kidman Way, 8km from Cobar where there is a short visitor walk and old viewing platform from which you can see the machinery above ground.
Visited Newey Reserve lake on south side of town.
Day 4 Dubbo
Headed off from Cobar in my Tesla electric vehicle with 88% charge for the 300km trip to Dubbo. Navigator tells me I'll arrive with 25% charge left. Forecast max temperatures for the drive are 38oC in Cobar and 32oC in Dubbo.
Stopped at Nyngan solar farm on the way.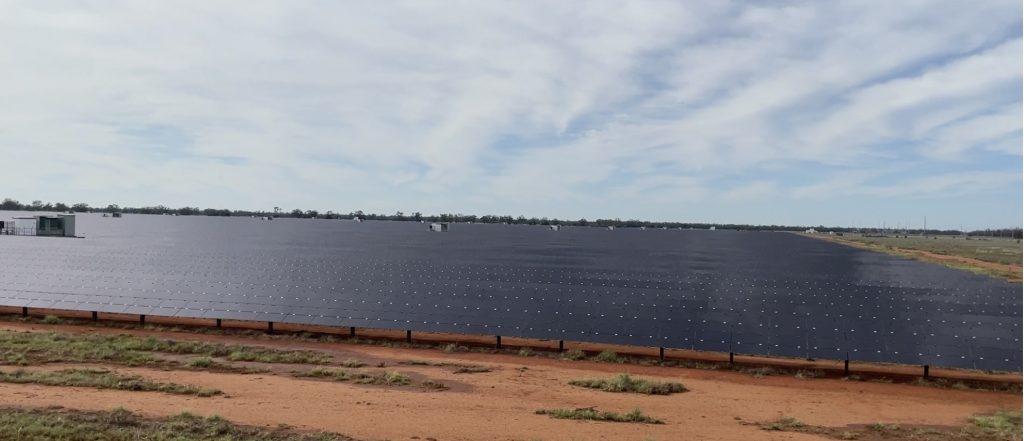 Arrived in Dubbo with 18% and topped up for 15 mins at Supercharger to 50%.
88%-18%=70% used over 300km or 43km per 10% of battery used in 38oC temps at 110-100km/hr
Visited Western Plains Zoo in afternoon and stayed at the Orana Motel, in Dubbo, a nice motel, friendly hosts and two EV destination chargers so I could charge fully on arrival.
Full trip so far by electric vehicle is 1,407 kms using 212 kWh at 151 Wh/km.
Day 5 Dubbo to Sydney
I had left my electric vehicle plugged in to the EV destination charger at Orana Motel overnight, as there were no other EVs wanting to charge, which maintained my charge at 90% even though sentry was on all night.
Headed of from Dubbo with 88% and stopped for breaks at Molong, Orange and Bathurst (topped up to 90% again at Bathurst) before arriving home that afternoon to temps of 33oC.
Summary
Travelled 1,836 kms by electric vehicle from Sydney to Bourke via Cobar and return, in temps to 38oC using 274kWh of electricity at 149Wh/km. My real range, which included for driving plus air conditioning, sentry, crossing the mountains and preconditioning etc varied from 43 to 48 km per 10% of battery used, so about 430-480km for 100%.